Introduction
Since its debut in 1959 as the ground-breaking Xerox 914, copy machines have emerged as one of the most prominent icons of the contemporary office environment.
In line with that, even though printers and copiers have seen significant advancements since 1959, their primary conundrums have remained the same: whether it is preferable to lease a printer and copier or to purchase one altogether.
If you are also struggling to decide which leasing and purchasing an office machine is the best, you have come to the right place. This post will help you better to understand the benefits and drawbacks of the two options.
So, without further ado, let's get started!
Benefits of Leasing
Keep One Step Ahead Of Your Competitors
Leasing may make it possible for small and medium-scale companies to have cutting-edge technology that they would not be able to afford. As a result, your company will be in a better position to compete with more prominent companies without exhausting your available financial resources.
Reduce Unexpected Expenses
In comparison to buying a printer or copier upfront, the outright expenses associated with leasing are often far cheaper. Thus, making leasing the most advantageous and ideal financing option. Generally, it is easier for small to medium-scale companies to make a monthly budget to pay at least 200 US Dollars to 400 US Dollars in leasing payments.
Therefore, it would be easier for company owners to have state-of-the-art technology that will not cause them to spend hundreds to thousands of dollars upfront.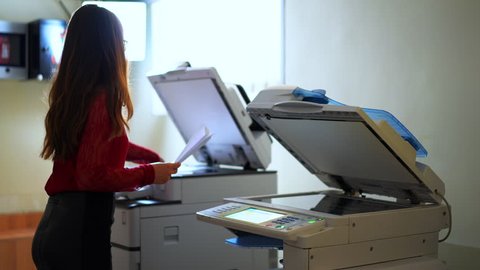 No Down Payment
Several small and medium-sized companies have trouble managing their cash flow. And they have to make sure their finance department has enough cash to help them expand.
Leasing often does not call for an initial payment, which means you may obtain new equipment without depleting urgently required resources.
Benefits of Purchasing a Printer or Copier
Complete Control over Maintenance
When you lease office equipment, the leasing company will often demand you keep it following its standards. This might be a costly requirement. On the other hand, when you purchase a printer or copier, you will be responsible for establishing the necessary maintenance services that your dealer will provide.
Immediate Ownership
The most significant advantage of acquiring a copier or printer with upfront cash is that it allows instantaneous ownership. In line with that, you will also benefit from the sense of security that comes with the purchase.
As soon as you purchase and have it set up in your workplace, you are free to do anything you want with it. Moreover, you can also maintain it in any manner you think is appropriate.
Easy and Straightforward Buying Process
You decide what your office needs and then purchase it from the marketplace. On the other hand, if you lease equipment, the leasing firm will want you to fill out paperwork and supply them with up-to-date and accurate information that concerns your finances.
You could also be required to disclose information about where and how you will use the leased equipment. In addition, some leasing companies have complex leasing terms. And if you don't know how to negotiate with price, you may end up spending more than what you will receive.
Final Thoughts
The decision to purchase or lease a copier will always depend on different factors, including your budget and company needs. The two options for acquiring a piece of office equipment come with their advantages and drawbacks. Thus, ensure to weigh its pros and cons before making a decision.
If you plan to get copiers for your office in Detroit, you can buy or lease copiers in Detroit. We can give you the option to get the copier that you want.  You can contact our local copier leasing services department in your location.
If your Location is around Detroit, you may call us at (313) 241-7313, and our personnel for copier leasing in Detroit will assist you.   If you are also looking for copier repair services in Detroit, you may contact our copier repair personnel at the same number.